14 x 5.5g Blood Orange Flavoured Sachets
Revive your energy levels throughout the day and keep your cognitive function sharp with this energising blend of 13 minerals, vitamins, electrolytes and botanicals. They get to work fast! Add the powder to your water and replenish your body and mind.
Energy release: Magnesium & Vitamin C
Cognitive function: Zinc & Iodine
Blood sugar level: Chromium 
Regular price
£11.99
Sale price
£11.99
Unit price
per
Sale
Sold out
Share
View full details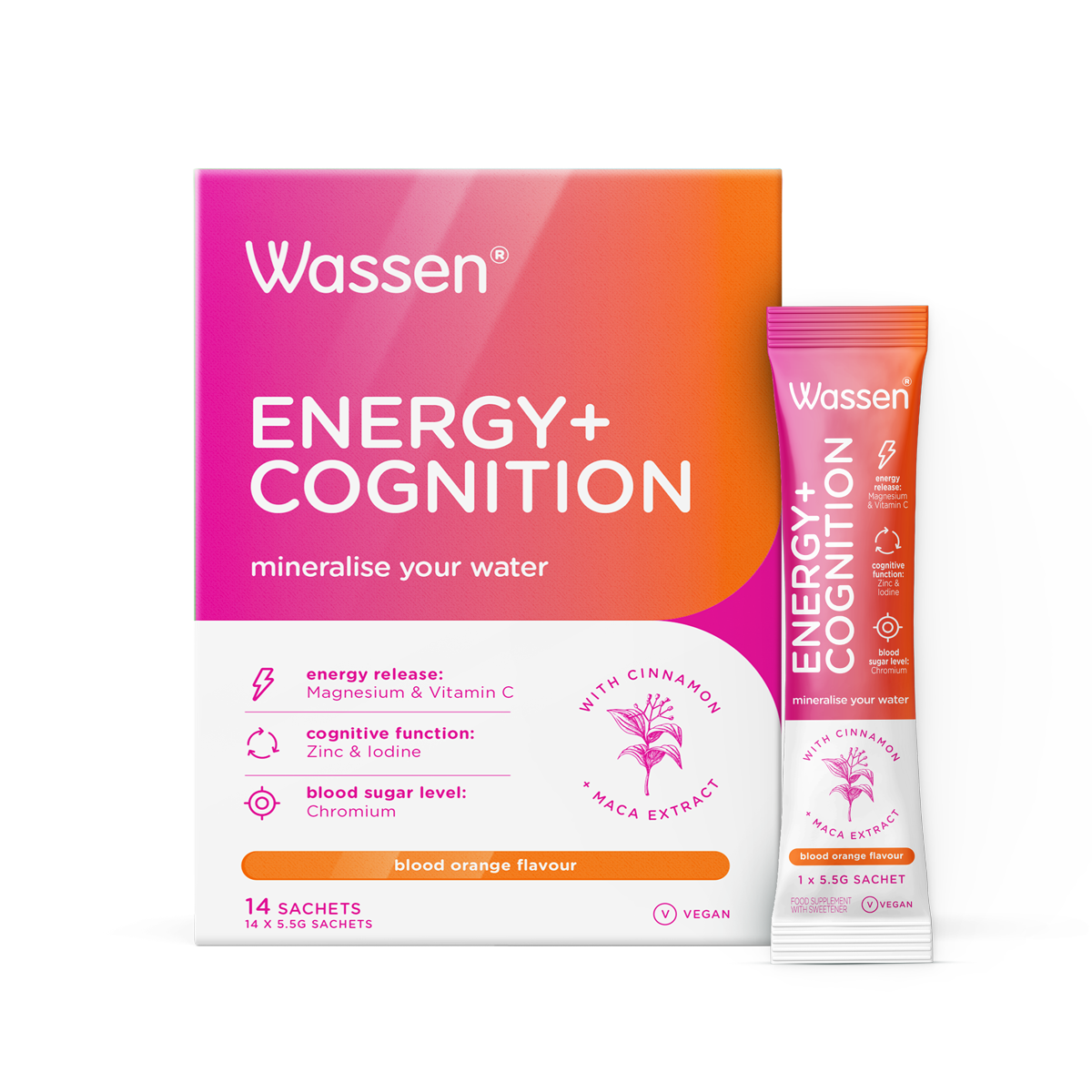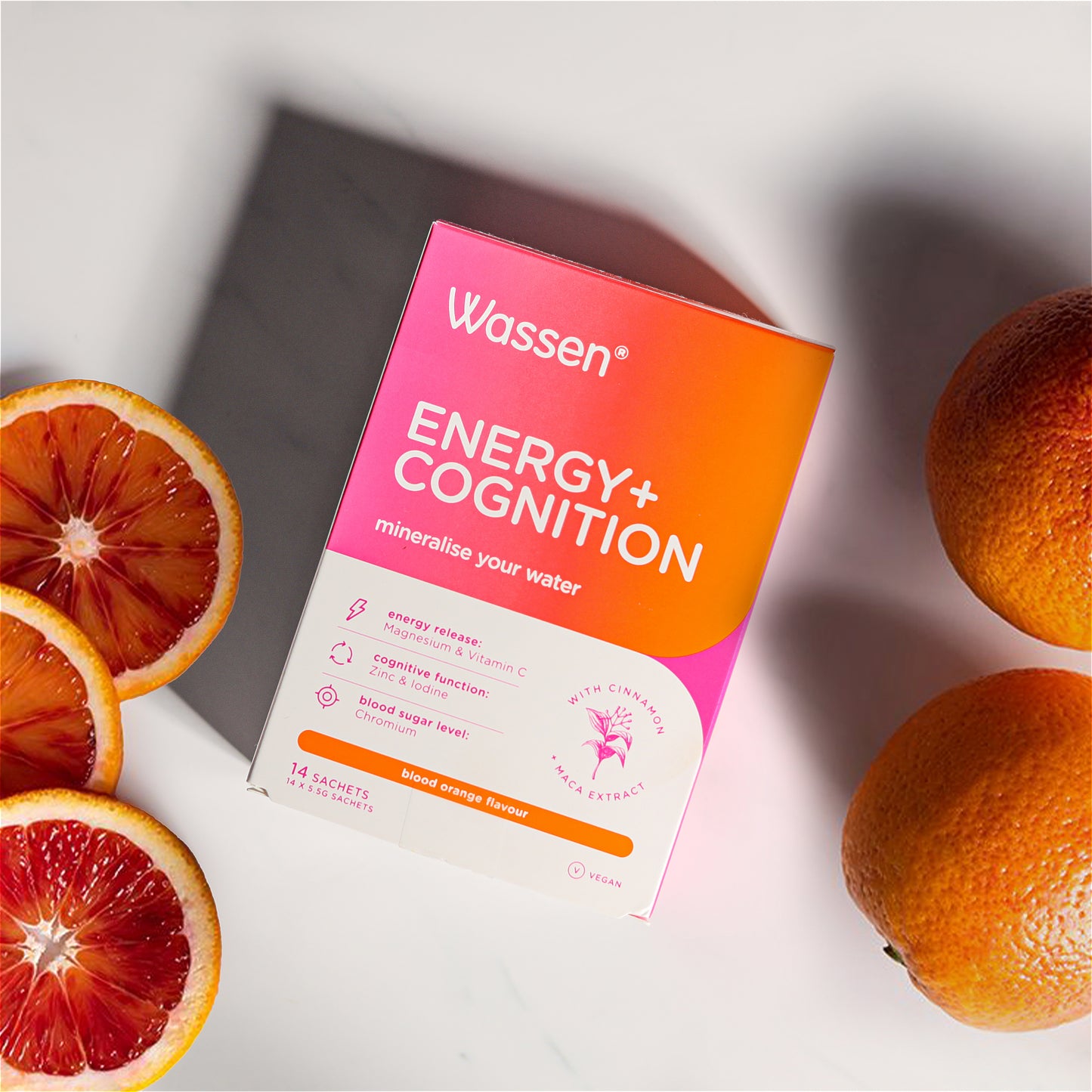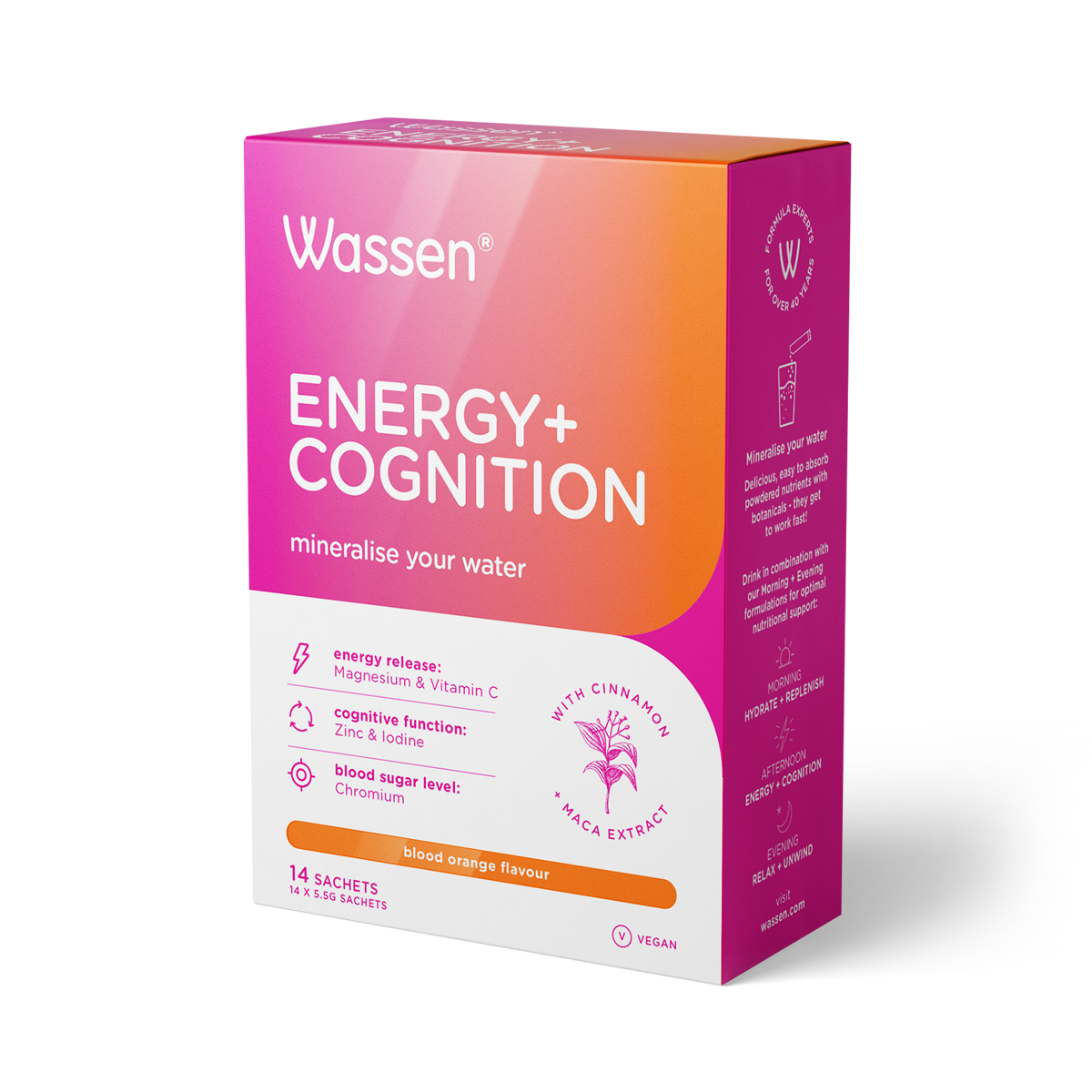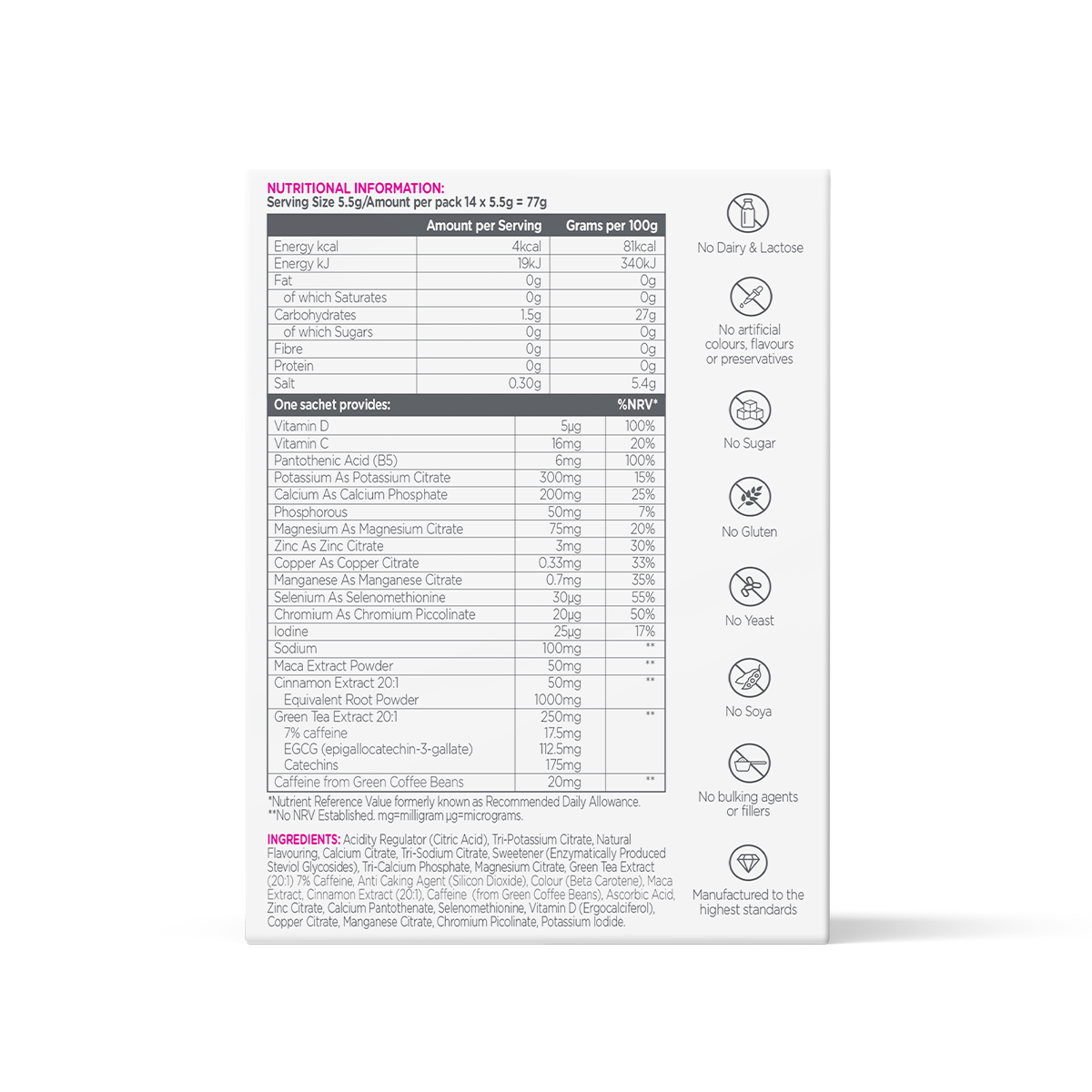 Collapsible content
What are the benefits of ENERGY + COGNITION?

Introducing Energy + Cognition: Revitalize with MAGNESIUM & VITAMIN C for Enhanced Energy

Rediscover your vitality with Energy + Cognition, a premium food supplement carefully formulated to boost energy levels and enhance cognitive function. At Wassen, we are committed to offering natural, ethical, and high-quality supplements that you can trust. Let's explore the remarkable benefits that Energy + Cognition provides:

MAGNESIUM & VITAMIN C- The Energizing Combination:
Feel invigorated with the dynamic blend of Magnesium and Vitamin C, which supports normal energy-yielding metabolism. These essential nutrients also contribute to the reduction of tiredness and fatigue while supporting normal psychological functions, helping you maintain sharpness and focus throughout the day.

Discover Mental Performance with VITAMIN B5:
Fuel your cognitive abilities with Vitamin B5, which nutritionally supports mental performance, promoting mental clarity and sharpness.

Support Cognitive Function with ZINC & IODINE:
Our formula includes Zinc and Iodine to support cognitive function.

Maintain Balanced Blood Sugar with CHROMIUM & CINNAMON:
Balanced blood sugar is crucial for sustaining energy levels and promoting a balanced mood. Energy + Cognition contains Chromium, which supports normal blood sugar balance, along with Cinnamon, helping to maintain healthy blood sugar levels.

Discover the Power of MACA:
Our supplement features the popular botanical Maca, known for maintaining optimal stamina and feelings of vitality, providing you with the endurance needed to conquer the day.

GREEN TEA Concentrate - Nature's Antioxidant Treasure:
Loaded with antioxidants, Green Tea has been extensively researched for its positive impact on heart and cardiovascular health, cognitive function, glucose metabolism, and weight control. Experience the incredible benefits of Green Tea with our premium concentrate.

Crafted with Expertise - Wassen Since 1982:
Energy + Cognition is proudly manufactured in the UK by Wassen, your trusted formulation experts since 1982. Our commitment to the latest scientific understanding and finest natural ingredients ensures ethical and high-quality supplements you can rely on.

Note: This product is a food supplement and should not be used as a substitute for a varied diet and healthy lifestyle. Please follow the recommended daily dosage and keep out of reach of children. If you are pregnant, breastfeeding, or have any underlying medical conditions, consult your healthcare professional before use.
How to take

Directions:
Add one sachet of Energy + Cognition to water (500ml or to taste) per day and mix well. Can be taken in combination with Hydrate + Replenish and Relax + Unwind. Suitable for adults.Important: Do not exceed recommended daily intake. Contains caffeine (37.9mg per 5.5g sachet / 688.2g per 100g). The equivalent of approximately 1cup of black tea. Not suitable for children, pregnant or breastfeeding women. Do not consume more than 800mg EGCG daily, this product contains 112.5mg EGCG per sachet. Do not take this product if you are already consuming other products containing green tea. Do not drink on an empty stomach. If you are taking any medication or have an existing health condition you must consult your doctor before using this product. Food supplements are intended to supplement the diet and should not be used as a substitute for a varied, balanced diet and a healthy lifestyle. Store in a cool, dry place away from direct sunlight and out of reach of young children. Do not use if seal is broken.
Ingredients

Acidity Regulator (Citric Acid), Tri-Potassium Citrate, Natural Flavouring, Calcium Citrate, Tri-Sodium Citrate, Sweetener (Enzymatically Produced Steviol Glycosides), Tri-Calcium Phosphate, Magnesium Citrate, Green Tea Extract (20:1) 7% Caffeine, Anti Caking Agent (Silicon Dioxide), Colour (BetaCarotene), Maca Extract, Cinnamon Extract (20:1), Caffeine  (from Green Coffee Beans), Ascorbic Acid, Zinc Citrate, Calcium Pantothenate, Selenomethionine, Vitamin D (Ergocalciferol), Copper Citrate, Manganese Citrate, Chromium Picolinate, Potassium Iodide.
Fast acting energy + focus throughout the day
Stay on task and perform at your best
Before & during your ride

Before & during your workouts

Before kick-off & half time
pour, mix, enjoy!
Delicious, easy to absorb powdered nutrients with botanicals - they get to work fast!
| One sachet provides | | %NRV* |
| --- | --- | --- |
| Vitamin D | 5μg | 100% |
| Vitamin C | 16mg | 20% |
| Pantothenic Acid (B5) | 6mg | 100% |
| Potassium As Potassium Citrate | 300mg | 15% |
| Calcium As Calcium Phosphate | 200mg | 25% |
| Phosphorous | 50mg | 7% |
| Magnesium As Magnesium Citrate | 75mg | 20% |
| Zinc As Zinc Citrate | 3mg | 30% |
| Copper As Copper Citrate | 0.33mg | 33% |
| Manganese As Manganese Citrate | 0.7mg | 35% |
| Selenium As Selenomethionine | 30μg | 55% |
| Chromium As Chromium Piccolinate | 20μg | 50% |
| Iodine | 25μg | 17% |
| Sodium | 100mg | ** |
| Maca Extract Powder | 50mg | ** |
| Cinnamon Extract 20:1 | 50mg | ** |
| Equivalent Root Powder | 1000mg | |
| Green Tea Extract 20:1 | 250mg | ** |
| 7% caffeine | 17.5mg | |
| EGCG (epigallocatechin-3-gallate) | 112.5mg | |
| Catechins | 175mg | |
| Caffeine from Green Coffee Beans | 20mg | ** |
*Nutrient reference value. **No NRV established.
No artificial colours, flavours or preservatives

No Nasties No Titanium Dioxide, Iron Oxides or Talc
Hydration + nutrition throughout the day
MINERALISE YOUR WATER WITH OUR DRINKABLES RANGE
morning

Get ready to get up and go with an effective balance of vitamins, minerals, botanicals, and electrolytes, supporting daily health.

Find out more

afternoon

Beat the 2 o'clock slump and support cognitive function with this energising blend of micronutrients, botanicals and electrolytes.

Find out more

evening

When it's time to wind down and relax, enjoy a soothing drink of botanicals, including lemon balm, chamomile and Montmorency cherry.

Find out more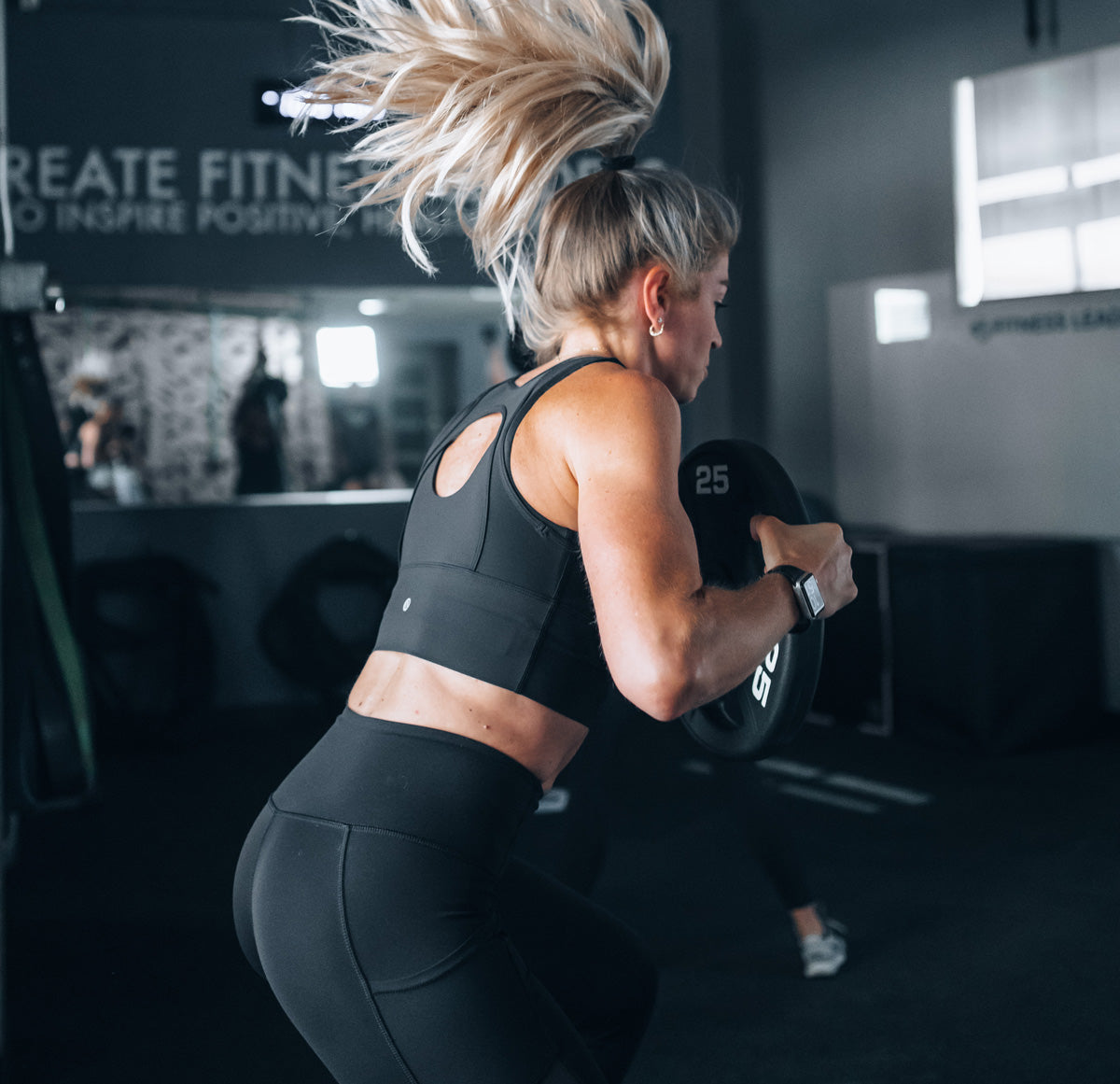 Perfect to support your goals
Ensuring your body is ready for action can make all the difference, let's have a look into the role micronutrients play in weight training.
Find out more