Coenzyme Q10 is a natural vitamin-like substance found in all cells in the body. It is stored in the mitochondria of cells, where cellular energy is produced. This specialised supplement also includes Vitamin B1, B2, E and Zinc, to support the lifestyle of busy and active people.
Energy release: Vitamin B1
Fatigue reduction: Vitamin B2
Cell protection: Vitamin E & Zinc
Regular price
Sale price
£7.00
Unit price
per
Sale
Sold out
View full details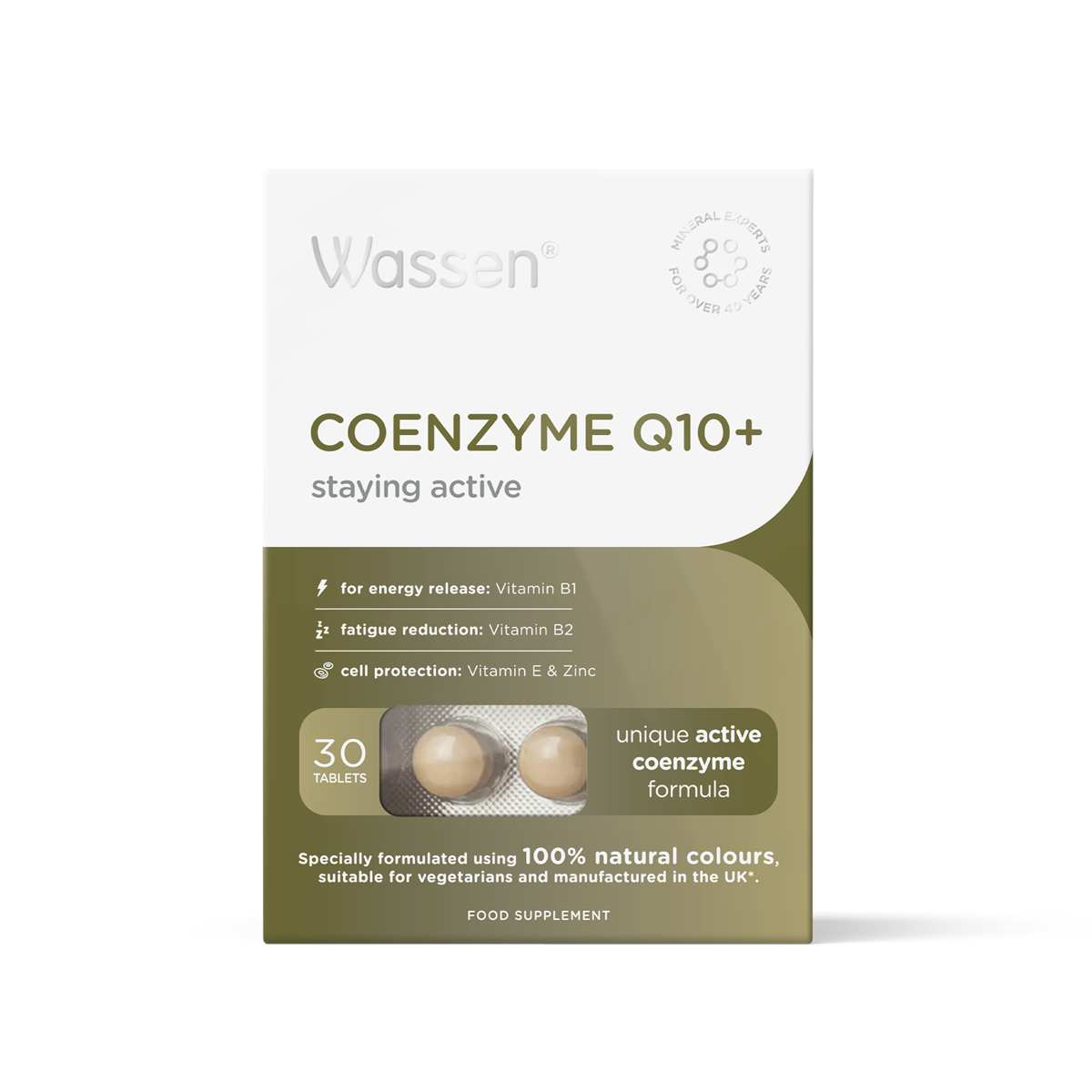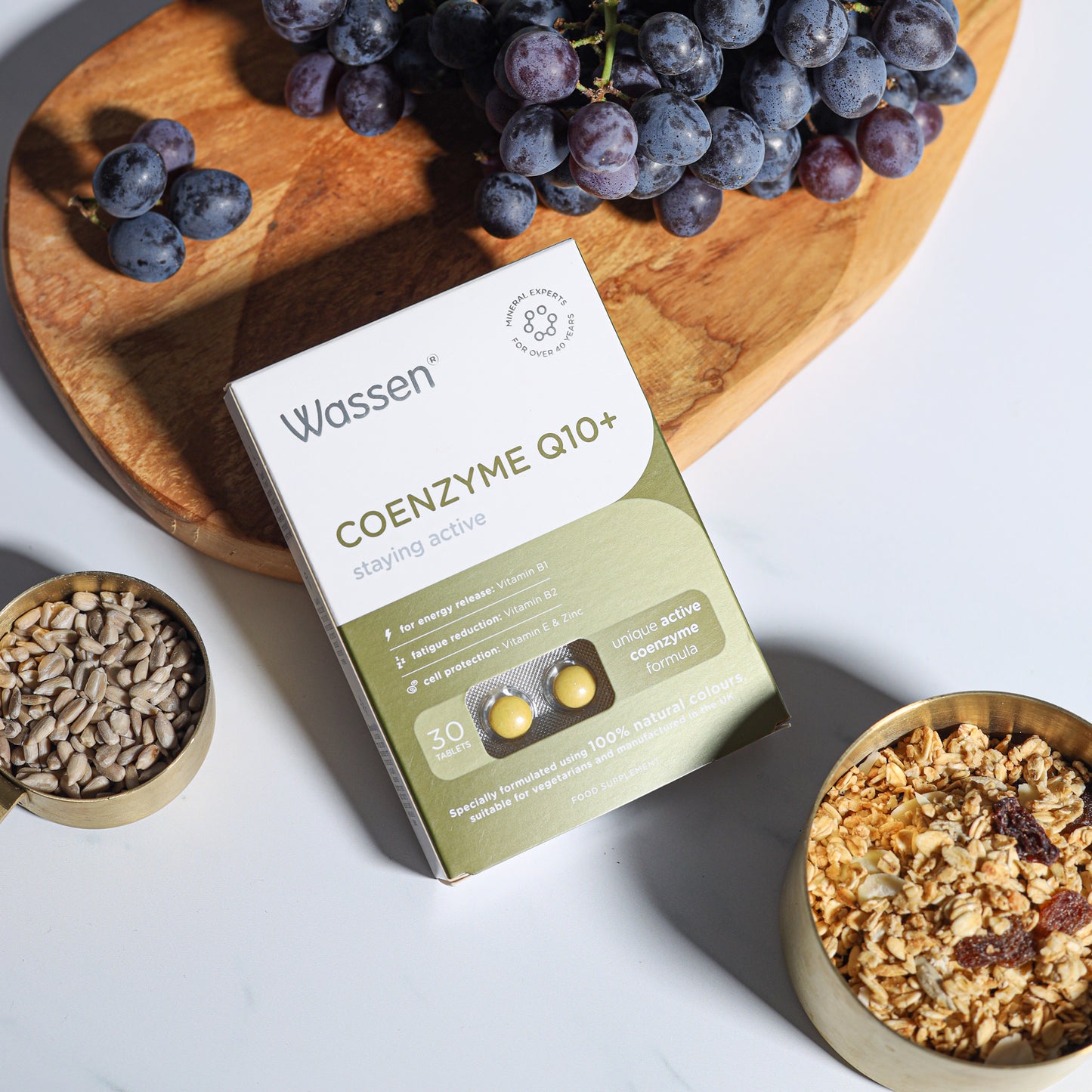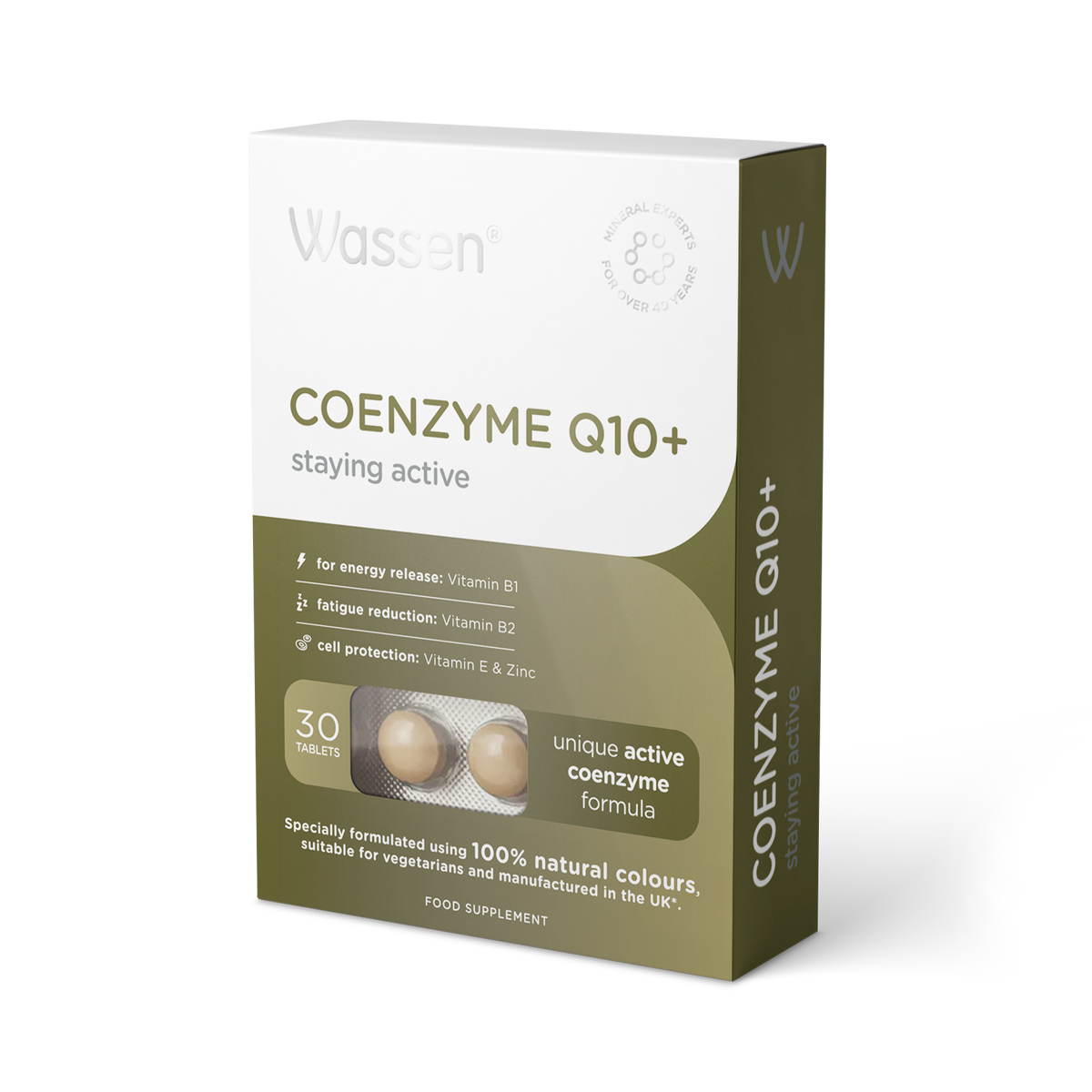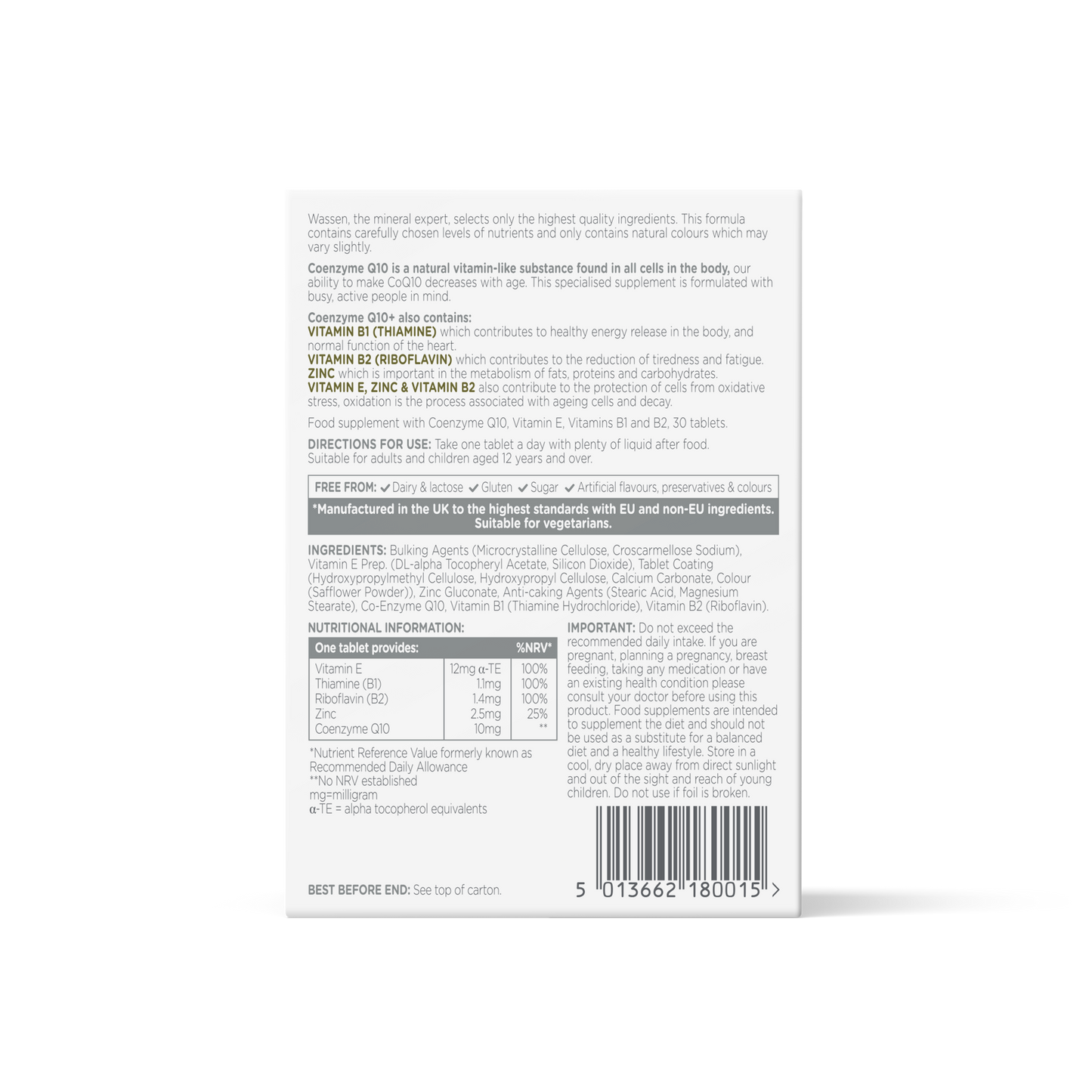 Specially formulated for an active lifestyle
What are the benefits of Conenzyme Q10+?

Provides an additional source of COENZYME Q10 - CoEnzyme Q10 is found in the mitochondria of cells where cellular energy is produced. It is produced naturally by the body, but an intake can support natural levels, which may decline with age.

Contains B-VITAMINS for energy - Vitamin B1 supports normal energy-yielding metabolism, while Vitamin B2 contributes to a reduction of tiredness and fatigue.

Supports healthy heart function with Vitamin B1. Maintaining a healthy and functioning heart is important for keeping fit and active.

High in ZINC - Zinc is important for the metabolism of fats, proteins and carbohydrates, further supporting energy release from food.

Protects cells from oxidative stress caused by reactive oxygen species with VITAMIN E, ZINC & VITAMIN B1.

Effective formulation - "I have been taking them every day for the last 20-odd years. What else can I say? I am 86 and feel they keep me fairly active. Thank you."

Manufactured in the UK to a high standard for Wassen, your formulation experts since 1982. We use the latest scientific understanding to develop natural, ethical, and premium quality supplements that you can rely on.
How to take

Recommended Intake
Take one tablet a day with plenty of liquid after food. Suitable for adults and children aged 12 years and older.

Additional Information
Do not exceed recommended daily intake. If you are pregnant, planning a pregnancy, breast feeding, taking any medication or have an existing health condition you must consult your doctor before using this product.

Food supplements are intended to supplement the diet and should not be used as a substitute for a balanced diet and a healthy lifestyle.

Store in a cool, dry place away from direct sunlight and out of reach of children. Do not use if foil is broken.

Manufactured in the UK to the highest standards for Wassen
Ingredients

Bulking Agents (Microcrystalline Cellulose, Croscarmellose Sodium), Vitamin E Prep. (DL-alpha Tocopheryl Acetate, Silicon Dioxide), Tablet Coating (Hydroxypropylmethyl Cellulose, Hydroxypropyl Cellulose, Calcium Carbonate, Color (Safflower Powder)), Zinc Gluconate, Anti-caking Agents (Stearic Acid, Magnesium Stearate), Co-Enzyme Q10,
Vitamin B1 (Thiamine Hydrochloride), Vitamin B2 (Riboflavin).
I have been taking them every day for the last 20 odd years. What else can I say. I am 86 and feel they keep me fairly active. Thank you.
No artificial colours, flavours or preservatives

No Nasties No Titanium Dioxide, Iron Oxides or Talc
| One tablet provides | | %NRV* |
| --- | --- | --- |
| Vitamin E | 12mg ⍺-TE | 100% |
| Thiamine (B1) | 1.1mg | 100% |
| Riboflavin (B2) | 1.4mg | 100% |
| Zinc | 2.5mg | 25% |
| Coenzyme Q10 | 10mg | ** |
*Nutrient reference value. **No NRV established.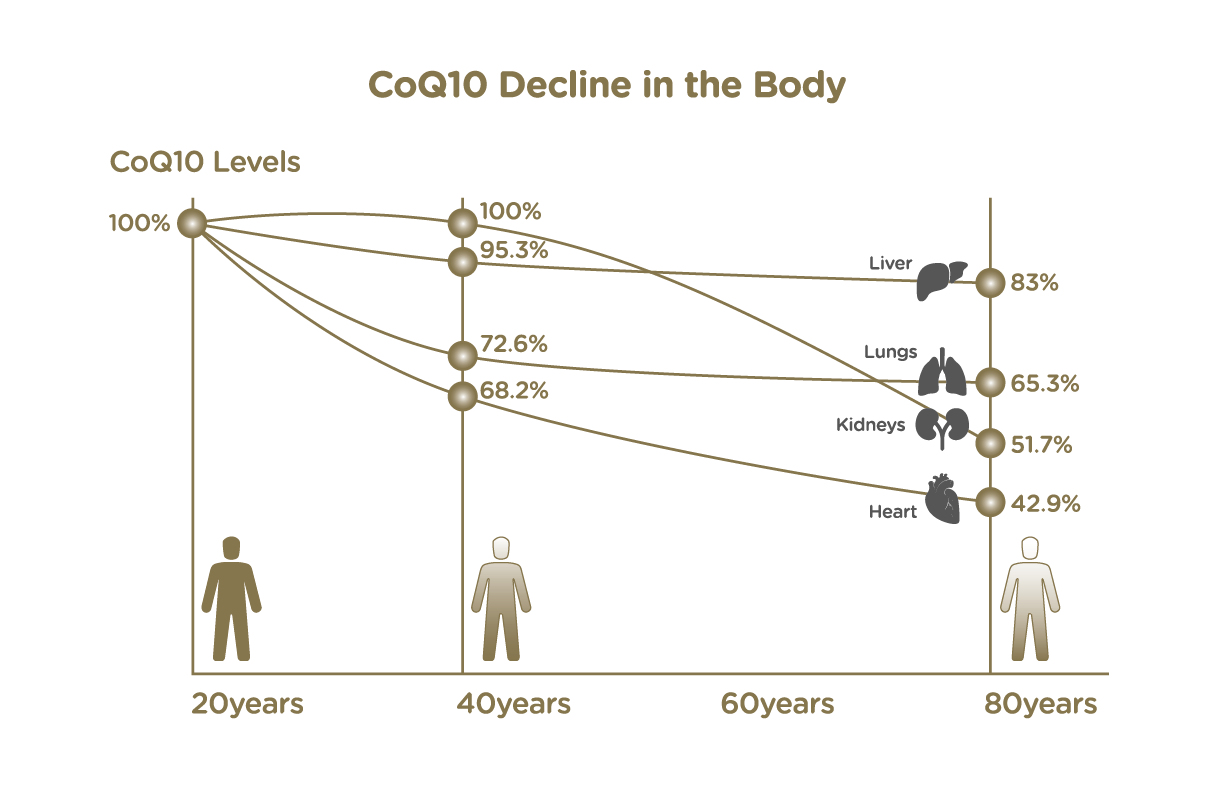 CoQ1 is a naturally occurring compound found in the body. It is found in high concentrations in vital organs including the brain and heart and is stored in the energy-producing mitochondria of your cells. CoQ10 is used to make a compound called adenosine triphosphate (ATP) – a key factor in energy transfer within cells.
The concentration of Coenzyme Q10 in the body decreases year by year as we age.
Complimentary products
YOU CAN PAIR OUR COENZYME Q10+ WITH THE FOLLOWING PRODUCTS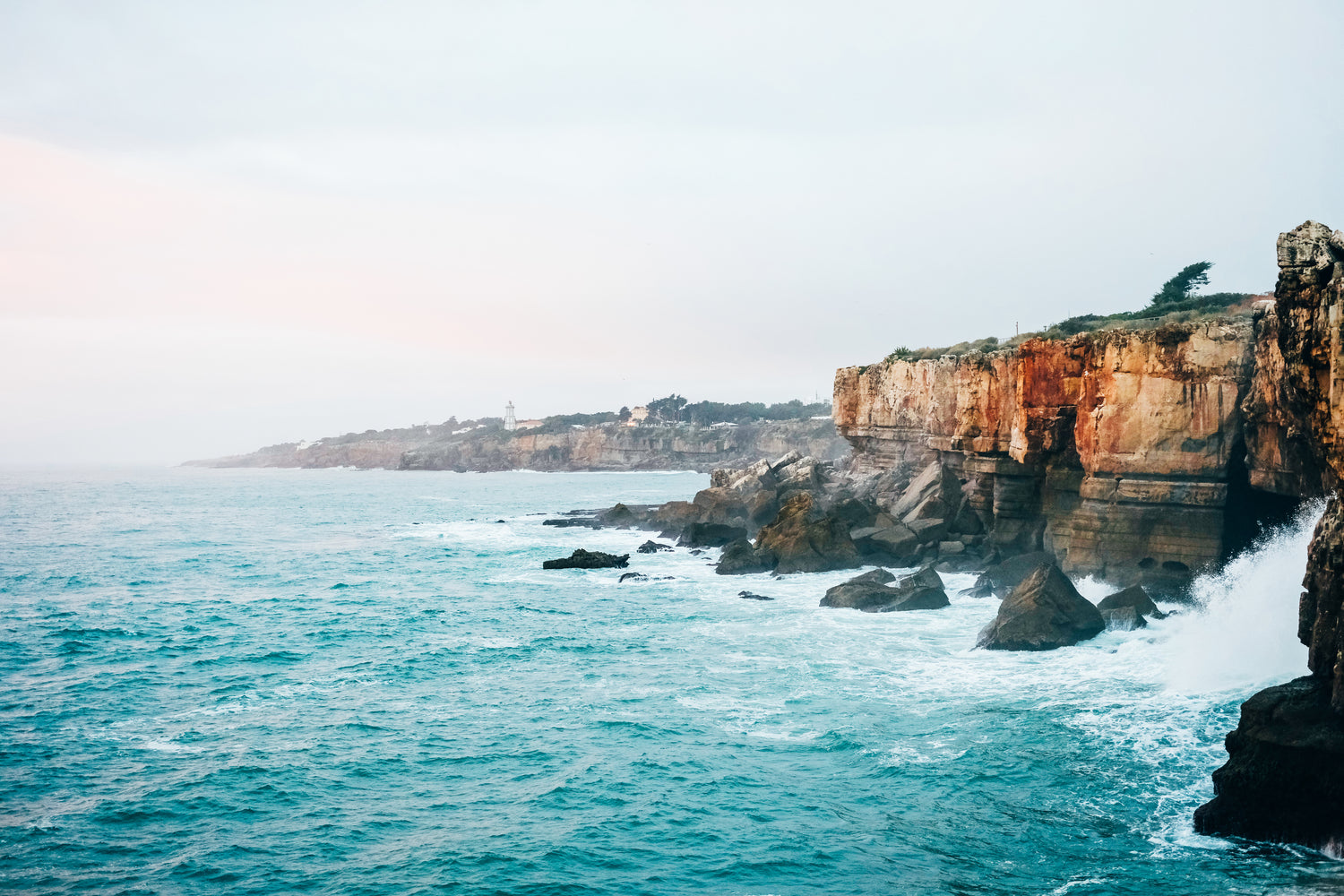 Our Quality
Our food supplements are manufactured to a high standard, with pharmaceutical grade quality, and always under Good Manufacturing Practice. The use of premium sources of vitamins, minerals, and botanicals, combined with our 40 years of expertise in efficacious product formulations, enables us to consistently develop natural, ethical, and high-quality food supplements.
About us