14 x 5.5g Lemon and Ginger Flavoured Sachets
Refresh your digestive health with a blend of minerals, digestive enzymes, and live bacterial strains. They get to work fast! Simply add the powder to your water and experience three-way digestive support when you need it most.
Digestion support: Calcium & Digestive Enzymes
Electrolyte balance: Magnesium
Live cultures: L. acidophilus, B. bifidum & B. coagulans
Regular price
£16.99
Sale price
£16.99
Unit price
per
Sale
Sold out
Share
View full details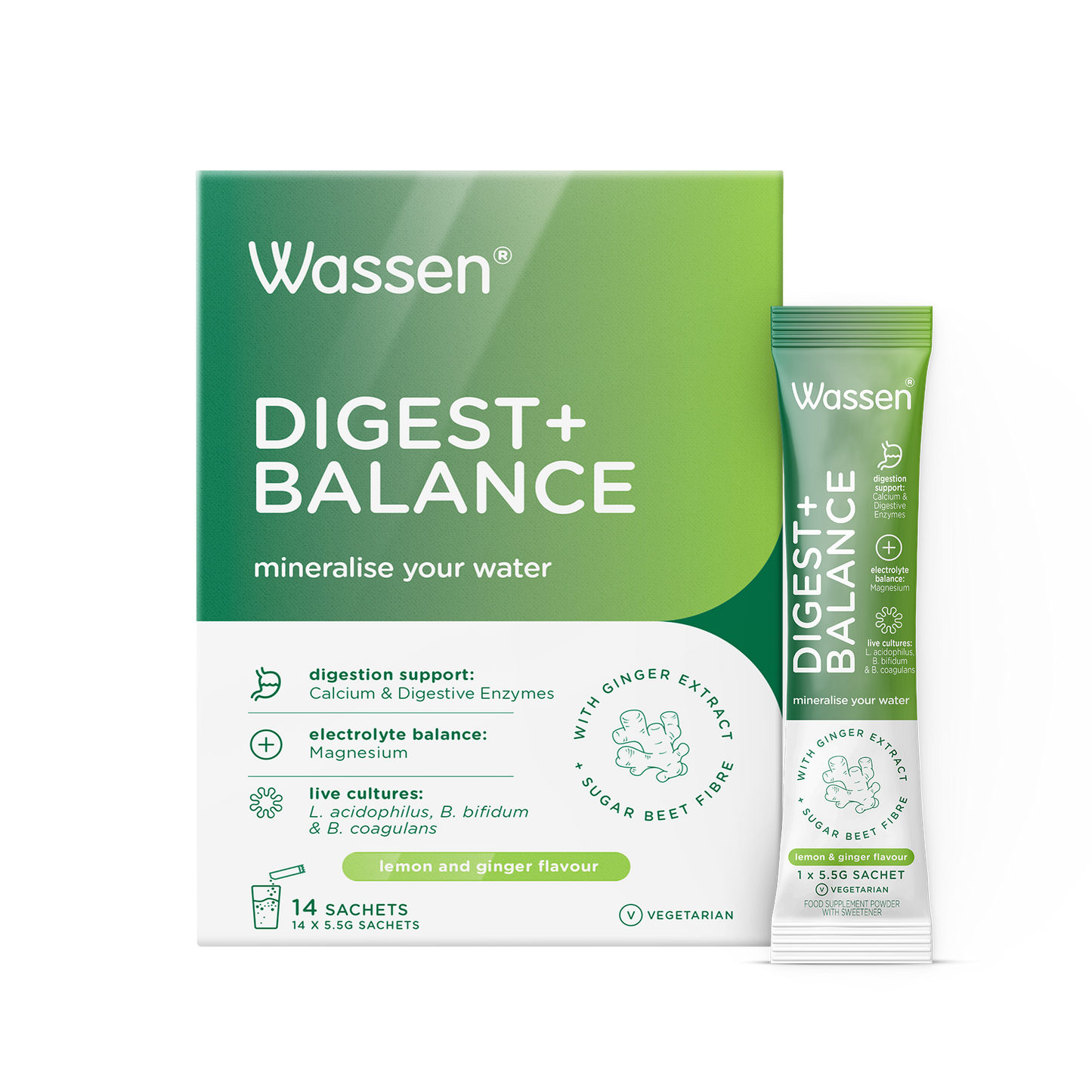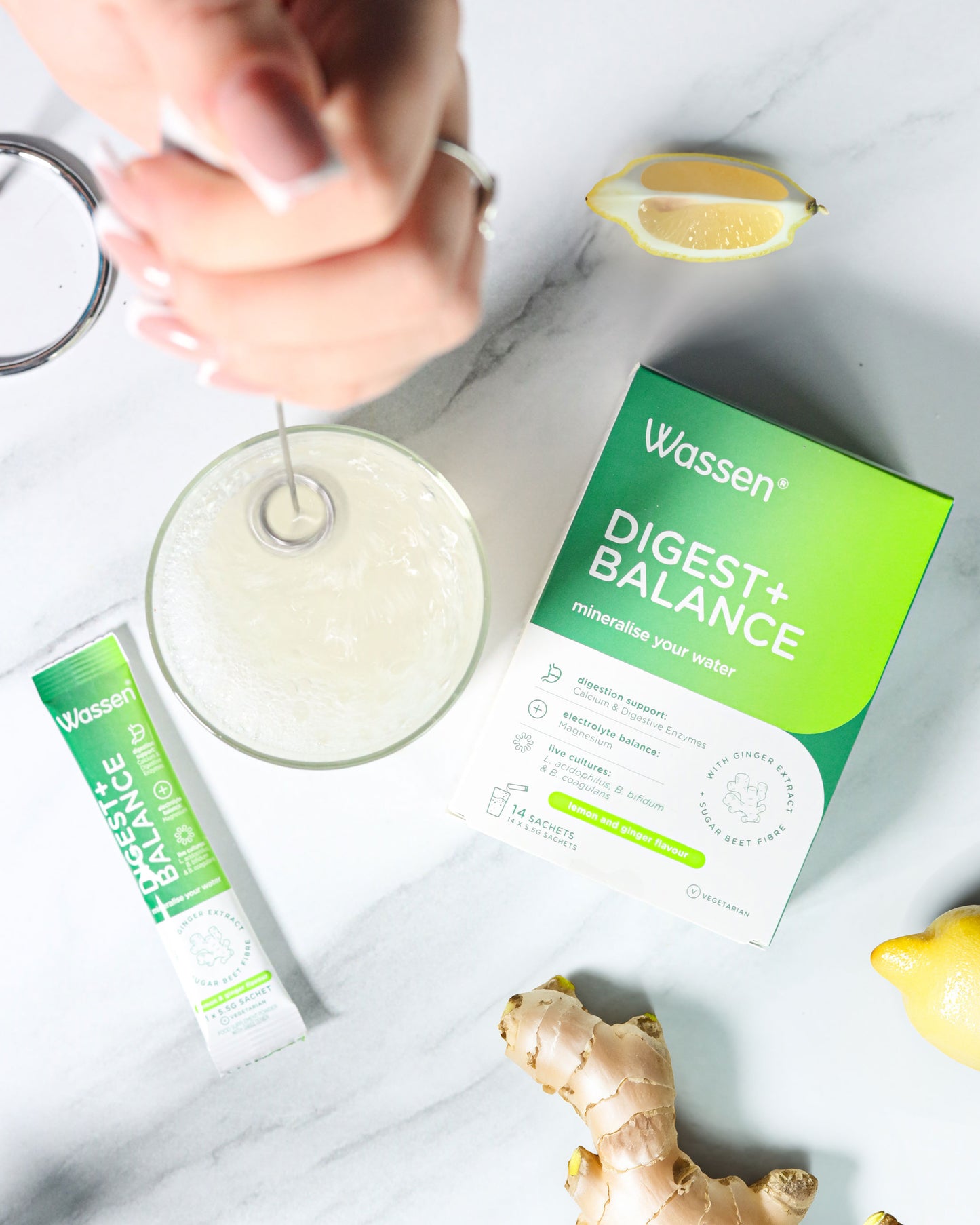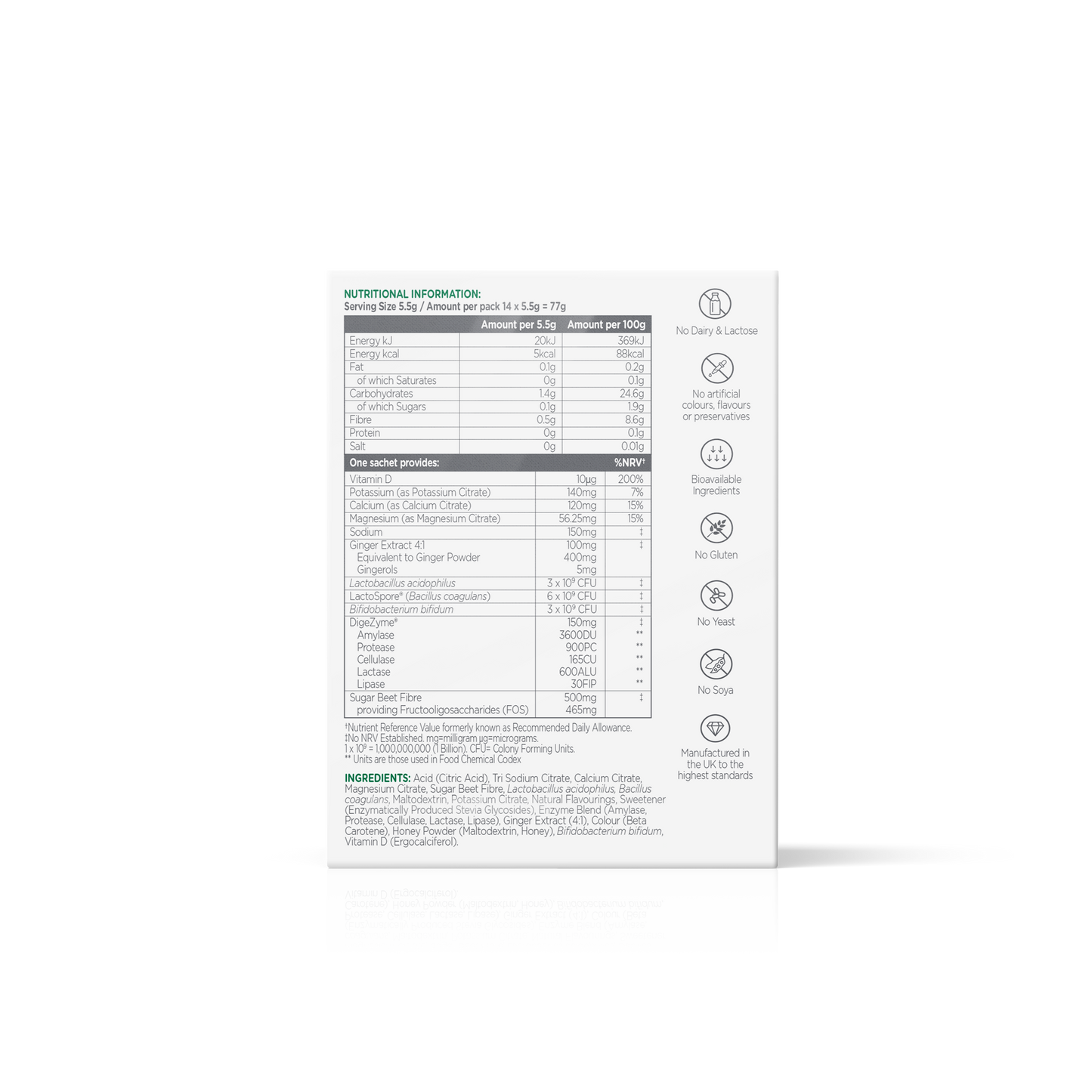 Collapsible content
What are the benefits of DIGEST + BALANCE?

Your digestive system is key to your overall health as it digests and absorbs the nutrients your body needs to thrive. We've developed a targeted, mineral lead, three-way digestive health support supplement. At Wassen, we use our expertise in mineral lead formulations to nurture your body's wellness, helping you lead a balanced and healthy life. 

Digest with Ease – Digestive Enzymes & Calcium

Digestion is the process of converting food into smaller, absorbable, and usable nutrients. It's essential for energy production and supplying the body with the nutrients it needs for various functions in the body. Calcium contributes to the normal function of digestive enzymes. Each sachet also contains digestive enzymes from DigeZyme®, Amylase, Protease, Cellulase, Lactase and Lipase, boosting the levels of enzymes in the gut, and aiding the digestion of proteins, carbohydrates fats and dairy.

Digestive Flow – Magnesium 

The muscles in the digestive tract contract and relax to enable the smooth passage of food through the digestive system, a process known as peristalsis. Magnesium supports normal muscle function, as well as contributing to normal energy-yielding metabolism and electrolyte balance.

Nurture your Gut Microflora – Live Bacterial Strains

Each sachet provides 12 BN CFU, made up of the strains L. acidophilus, B. bifidum & B. coagulans naturally found living in the digestive system, and proven to reach the gut alive. FOS from sugar beet fibre has been added as a natural food source for bacterial strains in the gut.

With Soothing Ginger Extract

Ginger not only tastes great, but it has also traditionally been taken to support digestive health and wellbeing.

Crafted with Expertise by Wassen; Mineral Supplement Experts:

Rest assured, Digest + Balance is manufactured in the UK by Wassen, your trusted formulation experts since 1982. Our commitment to the latest scientific understanding and finest natural ingredients ensures ethical and premium quality supplements you can rely on.

Note: This product is a food supplement and should not be used as a substitute for a varied diet and healthy lifestyle. Please follow the recommended daily dosage, and keep out of reach of children. If you are pregnant, breastfeeding, or have any underlying medical conditions, consult your healthcare professional before use.
How to take

Directions for adults:
Add one sachet of Digest + Balance to water (500ml or to taste) per day and mix well. Wassen advise you enjoy this delicious drink alongside your main meal.

Suitable for vegetarians.

Do not exceed the recommended daily intake. If you are pregnant, planning a pregnancy, breastfeeding, taking any medication or have an existing health condition consult your doctor before using this product. Food supplements are intended to supplement the diet and should not be used as a substitute for a balanced diet and a healthy lifestyle. Store in a cool, dry place away from direct sunlight and out of reach of children. Do not use if seal is broken.
Ingredients

Acid (Citric Acid), Tri Sodium Citrate, Calcium Citrate, Magnesium Citrate, Sugar Beet Fibre, Lactobacillus acidophilus, Bacillus coagulans, Maltodextrin, Potassium Citrate, Natural Flavourings, Sweetener (Enzymatically Produced Stevia Glycosides), Enzyme Blend (Amylase, Protease, Cellulase, Lactase, Lipase), Ginger Extract (4:1), Colour (Beta Carotene), Honey Powder (Maltodextrin, Honey), Bifidobacterium bifidum, Vitamin D (Ergocalciferol).
3-way digestive health support
Calcium helps support digestive enzymes

Magnesium supports muscle function (e.g peristalsis) & electrolyte balance

Contains live bacterial strains and soluable fibre
One sachet provides
%NRV*
Vitamin D
10μg
200%
Potassium (as Potassium Citrate)
140mg
7%
Calcium (as Calcium Citrate)
120mg
15%
Magnesium (as Magnesium Citrate)
56.25mg
15%
Sodium
150mg
**
Ginger Extract 4:1
100mg
**
Equivalent to Ginger Powder
400mg
Gingerols
5mg
Lactobacillus acidophilus
3 x 109 CFU
**
LactoSpore® (Bacillus coagulans)
6 x 109 CFU
**
Bifidobacterium bifidum
3 x 109 CFU
**
DigeZyme®
150mg
**
Amylase
3600DU
Protease
900PC
Cellulase
165CU
Lactase
165CU
Lipase
30FIP
Sugar Beet Fibre
500mg
**
providing Fructooligosaccharides (FOS)
465mg
*Nutrient reference value. **No NRV established. mg=milligram. 1 x 109 = 1,000,000,000 (1 Billion).
CFU= Colony Forming Units.
No artificial colours, flavours or preservatives

No Nasties No Titanium Dioxide, Iron Oxides or Talc
Premium researched ingredients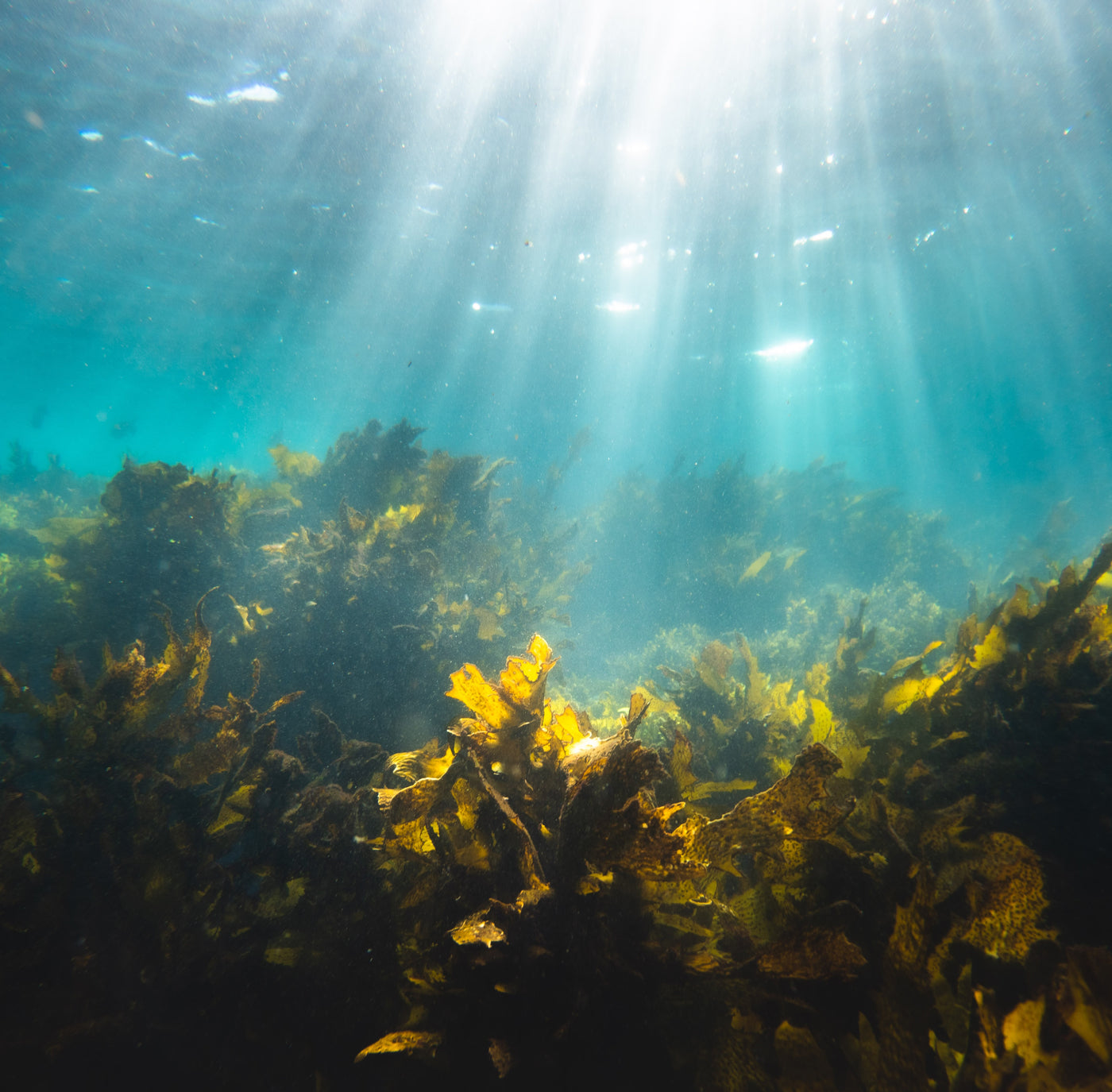 Digest + Balance, contains Aquamin™, a water-soluble, naturally sourced marine Magnesium derived from pristine Irish seawater. This 100% Clean label product not only harnesses the power of Aquamin Magnesium, which is in the form of magnesium citrate, but it also boasts the inclusion of 74 essential trace minerals. With superior bioavailability compared to other magnesium forms, Aquamin Magnesium is scientifically supported by over 40 peer-reviewed scientific articles, ensuring optimal effectiveness.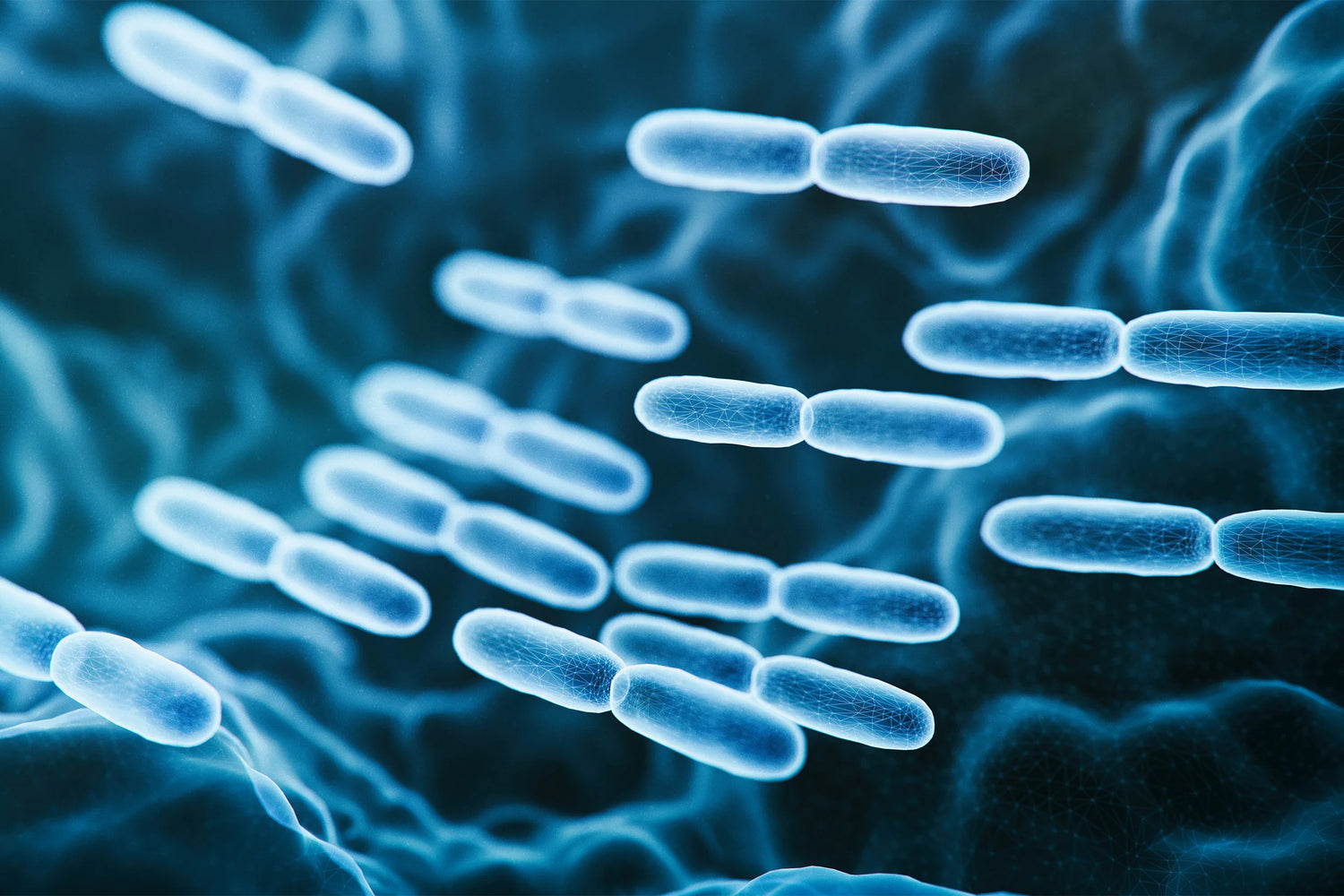 Enriched with LactoSpore®, a versatile probiotic containing Lactic Acid Bacillus, (initially identified in literature as Lactobacillus sporogenes and also recognized as Bacillus coagulans). First isolated and documented in 1933, this probiotic is naturally microencapsulated for enhanced stability and proliferates effectively within the gastrointestinal tract. Its clinical effectiveness is well-documented, providing robust support for digestive health.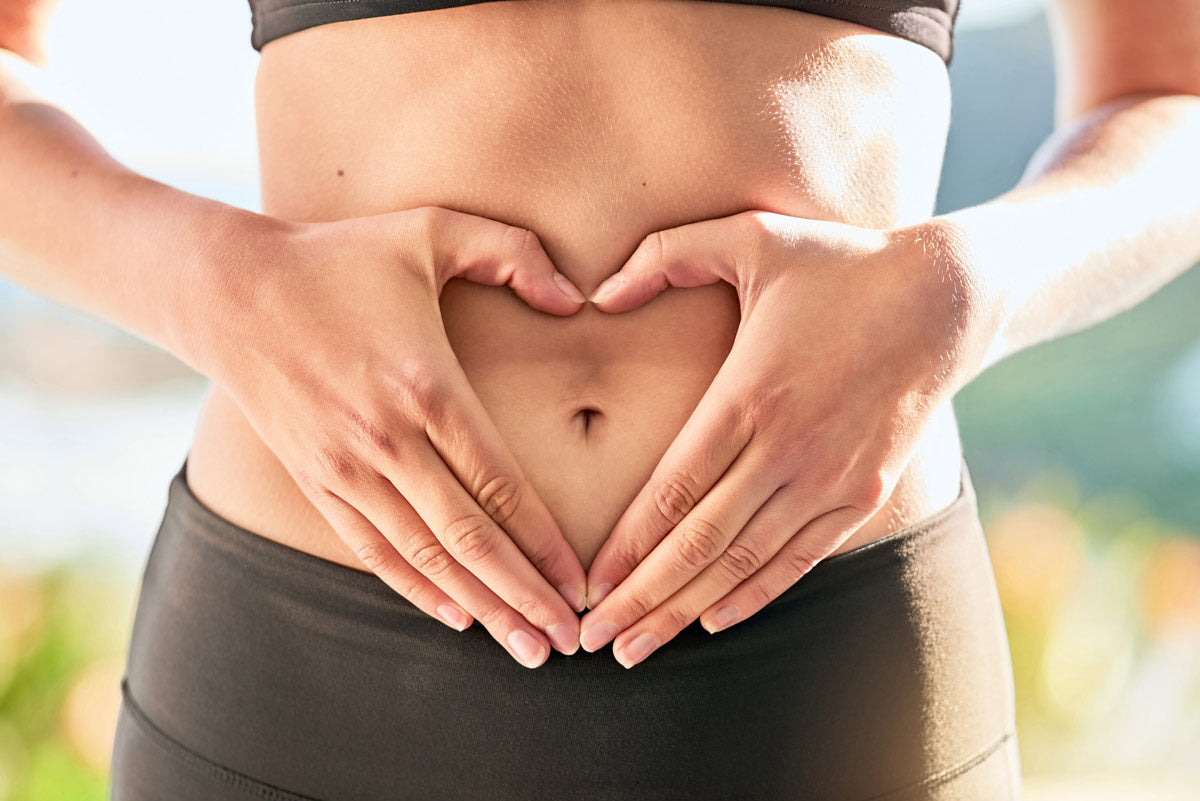 DigeZyme® breaks down intricate food molecules, including carbohydrates, fats, fibre and proteins—into smaller, foundational blocks, making food more readily digestible and promotes the efficient absorption of essential nutrients. Supported by thorough research, this scientifically proven blend significantly enhances the absorption of minerals and vitamins, guaranteeing optimal utilization of nutrients.